CushionBeautify your interiors with Zubix's 5 piece traditional cushion covers. Hand (screen) printed on poly dupion shinning fabric with unique ethnic designs and stitched in 40 X 40 cm, these are an ideal choice to gift your loved ones on festivals and housewarming parties. All cushions have zip closure at the back and all around string band on edges. Soothing to touch and easy to maintain, these are a must to redecorate your living room with a rich classy look. Highlights1. Set of 52. 40 X 40 cm3. Poly Dupion4. Excellent stitch quality5. Zip Closure6. All round string band on the circumference Features1. Ethnic look for your living room2. Bright and appealing3. Soft to touch4. Durable5. Easy to wash / dry clean/ iron6. Crisp even after wash7. Perfect to gift your loved ones.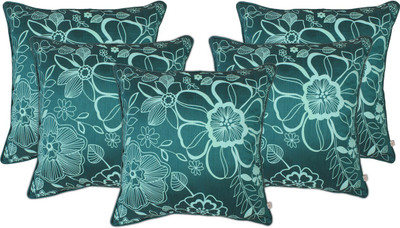 Product :
Zubix Floral Cushions Cover(Pack of 5, 40 cm*40 cm, Blue)
Categories :
Home Furnishing New, Covers & Protectors, Cushion Covers,
Brand :
Zubix
Color :
Blue
Specs :
Polyester;Pattern: Floral;Closure: Zipper;Shape: Square
Sellers Name :
Shivam Taneja
Sellers Avg Rating :
0
Sellers No of Rating :
0
Sellers No of Reviews :
0
Delevery Time :
Usually Delivered in 6 - 7 days.
Shipping Charges :
Rs. 60
Discount :
48 %
Cash on Delivery :
Available
Stock :
Available
Flipkart Product id :
CPCECETHXSHZ2KK9
MRP :
Rs. 1760
Selling Price :
Rs. 1760
Offer Price :
Rs. 909
Buy