These Aprons (Size 63X80 Cms) are Over Garment in your Kitchen. The Check Design Fabric made using Polyester & Cotton Yarn. The Fabric is soft in feel and durable to last long. Patch Pocket is useful to keep your Kitchen Tools as Handy. Each Apron Weighs 100 Grams.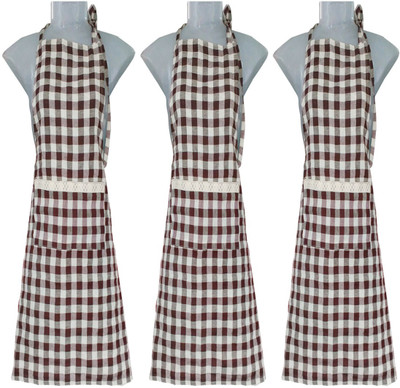 Product :
VKE Product Blended Home Use Apron - Large(Brown, Grey, Pack of 3)
Categories :
Home Furnishing New, Kitchen & Table Linen, Aprons,
Brand :
VKE Product
Color :
Brown, Grey
Specs :
Home Use Apron;Style: Waist;Checkered Pattern;Size: L;Material: Blended
Sellers Name :
B MAHALAKSHMI
Sellers Avg Rating :
4
Sellers No of Rating :
49
Sellers No of Reviews :
0
Delevery Time :
Usually Delivered in 4 - 5 days.
Shipping Charges :
Rs. 0
Discount :
46 %
Cash on Delivery :
Available
Stock :
Not Available
Flipkart Product id :
APREE4P4NBCHGZMZ
MRP :
Rs. 630
Selling Price :
Rs. 630
Offer Price :
Rs. 279
Buy