The elegant design curtains possess a premium quality fabric and beautiful printed pattern with designer which gives it a unique appearance and finish. The curtain comes with standard width that is 4 feet. These Curtains are easier to put up and take down than the traditional ones..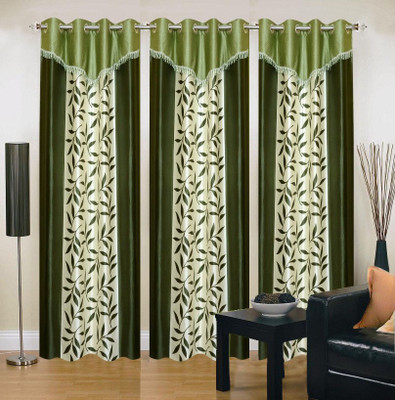 Product :
Ville Style 214 cm (7 ft) Polyester Door Curtain (Pack Of 3)(Floral, Green)
Categories :
Home Furnishing, Curtains & Accessories, Curtains,
Brand :
Ville Style
Color :
Green
Specs :
Length: 214 cm, Width: 122 cm;Ideal Location: Living & Bed Room;For Door;Material: Polyester;Pattern: Floral
Sellers Name :
Bhupesh Arora
Sellers Avg Rating :
4
Sellers No of Rating :
458
Sellers No of Reviews :
11
Delevery Time :
Usually Delivered in 4 - 5 days.
Shipping Charges :
Rs. 30
Discount :
64 %
Cash on Delivery :
Available
Stock :
Available
Flipkart Product id :
CRNEGGEFCGTMU65E
MRP :
Rs. 2149
Selling Price :
Rs. 2149
Offer Price :
Rs. 769
Buy