Expressions Electric Bed Warmer Is Placed Under The Bed Sheet. It Radiates Heat From Beneath Inducing Deep Restful Sleep Even In The Coldest Of Winter Nights. At The Same Time, The Heat Therapy Relaxes The Tired Back And Legs Muscles. It Helps Ease Stiffness And Soreness And Allows You To Wake Up Feeling Rested And Fresh. Expressions Electric Bed Warmers Are Time Tested, Safe And Comfortable. No More Wrestling With Heavy Electric Blankets That Keeps Sliding Off. No More Laundry Worries. No More Cold Winter Nights. Expressions Electric Bed Warmer Is Held Securely On The Mattress, Under The Bed Sheet. This Keeps It Protected From Dust, Adding Years To Its Life. Expressions Electric Bed Warmers Reduce Your Electricity Bill To A Fraction. You Would No Longer Need The Heat Pillars / Radiators That Not Only Increase Your Electricity Bill But Also Harm Your Respiratory System By Reducing The Moisture Level In Your Room..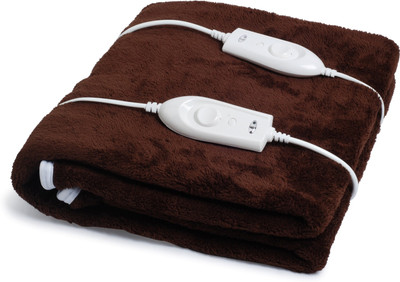 Product :
Expressions Plain Double Electric Blanket(Polyester, Brown)
Categories :
Home Furnishing, Bed, Blankets,
Brand :
Expressions
Color :
Brown
Specs :
Width 160 cm, Height 150 cm;Pack of 1;For Girls;Inner Material: Polyester
Sellers Name :
Hitesh Jain
Sellers Avg Rating :
3.7
Sellers No of Rating :
212
Sellers No of Reviews :
3
Delevery Time :
Usually Delivered in 4 - 5 days.
Shipping Charges :
Rs. 100
Discount :
16 %
Cash on Delivery :
Available
Stock :
Available
Flipkart Product id :
BLAE58UY229BG9CX
MRP :
Rs. 5999
Selling Price :
Rs. 5999
Offer Price :
Rs. 3899
Buy