Give your bedroom a lavish and extravagant treatment with this Florescent Bedding Set from Dexim. Made of Polyester and Satin Soft, smooth and durable, this bedding set is made from polyester and satin that makes your bedroom look royal and sophisticated. This bedding set is easy to maintain, as it can be machine-washed in cold water without using bleach and harsh chemicals. Pack of Four This pack contains one double bedsheet, two pillow covers and one quilt cover, thus giving your bedroom décor a boost. Rich Colour Combination A gorgeous colour combination of plain red and black makes this bedding set even more appealing and trendy to suit modern homes..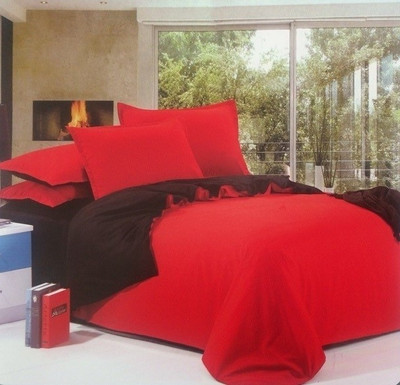 Product :
Dexim Double Florescent Color Polyester, Satin Bedding Set(Red, Black)
Categories :
Home Furnishing New, Bed Linen & Blankets, Bedding Sets,
Brand :
Dexim
Color :
Red, Black
Specs :
Queen Size;Material: Polyester, Satin;Width: 230 inch, Length: 250 inch
Sellers Name :
Sanjay Asyja
Sellers Avg Rating :
3.6
Sellers No of Rating :
137
Sellers No of Reviews :
3
Delevery Time :
Usually Delivered in 3 - 4 days.
Shipping Charges :
Rs. 0
Discount :
43 %
Cash on Delivery :
Available
Stock :
Not Available
Flipkart Product id :
BEDDZ7ZC7GGDTBDG
MRP :
Rs. 2999
Selling Price :
Rs. 2999
Offer Price :
Rs. 1599
Buy