Come out of the Stripes pattern traditional towels with Exotic collection towels from Casa Copenhagen, in attractive modern colours. This Excotic collection of terry towels are made from long staple fine cotton yarn. gives more Softness and are more absor.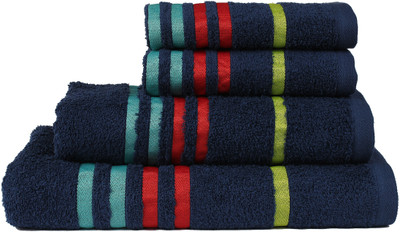 Product :
Casa Copenhagen Cotton 475 GSM Bath, Hand Towel Set(Pack of 4, Blue)
Categories :
Home Furnishing New, Bath Linen, Bath Towels,
Brand :
Casa Copenhagen
Color :
Royal Blue
Specs :
4 Towels;Towel Set;Width x Height: 27 inch x 57 inch;Cotton;Machine Washable
Sellers Name :
Swapnil Shah
Sellers Avg Rating :
4.1
Sellers No of Rating :
12
Sellers No of Reviews :
0
Delevery Time :
Usually Delivered in 6 - 7 days.
Shipping Charges :
Rs. 0
Discount :
62 %
Cash on Delivery :
Available
Stock :
Not Available
Flipkart Product id :
BTWEFNFYEFZ8D4XU
MRP :
Rs. 1999
Selling Price :
Rs. 1999
Offer Price :
Rs. 749
Buy